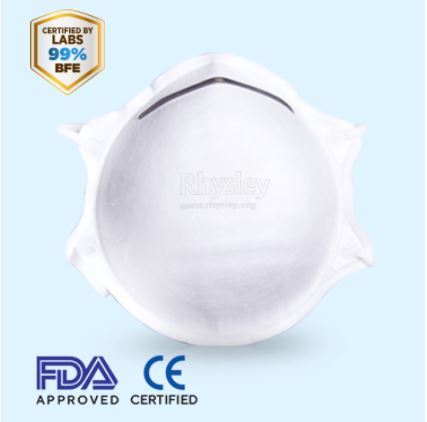 N99 (FFP3/KN99) CUP Mask
Price And Quantity
Product Specifications
Product Description
TheRhysley Particulate Respirator N99 cup-shaped face mask stops over99% of viruses, bacteria. It provides a protective barrieragainst pollution, toxins, dust, and liquid droplets in the air. This unisexmask consists of five layers with an ultrasonically welded head loop or earloop. Every mask has a cushioning nose foam and adjustable nose clip to providea custom fit and secure seal.
Thismask has a lightweight construction, which promotes greater user acceptance andincreases overall wear time, and durable enough for hot/dusty work settings.
Specifications
ProductName: N99 Cup Mask
ProductFeature: Non-woven, five-layered, melt-blown fabric filter, nose pin,protection against all kinds of pollutants and toxins; designed to provideexcellent protection
Shape:Cup-Shaped with Elastic Strap
Protection:Protect from germs, chemicals, dust particles, fluids, etc.
Filtrationefficiency:
95% PFE(Particle Filtration Efficiency)
95% BFE (Bacteria filtration efficiency)