4 Ply Surgical Mask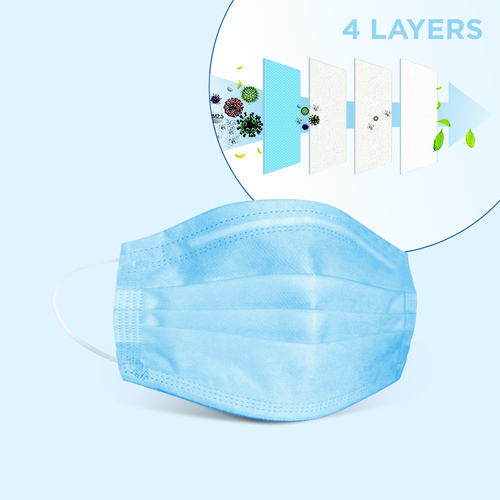 4 Ply Surgical Mask
Product Description
4 Ply Surgical Mask
The 4 Ply Surgical Mask is ideal for medical professionals or people working in high risk areas. The extra layer adds another level of protection which increases the bacteria filtration efficiency compared to the 3 ply surgical mask. The 1st and 4th Layer of 4 ply Surgical Mask is Non-Woven Spun Bond Fabric. The 2nd Layer is 40 GSM 100% Polypropylene Melt blown and 3rd Layer is 25 GSM 100% Polypropylene Melt blown. The PFE >99 (Particle Filtration Efficiency) and BFE (Bacterial Filtration Efficiency) for the mask exceeds 99%.
The mask comes in packs of 10 in air tight Rhysley packaging. The elastic ear loops which enable to use them for a long period, the built-in nose piece molds itself to the face design to ensure a perfect fit for men and women
The face mask comes with a smart pulls dispenser box which makes it convenient to pull up a mask and re-pack the box back to preserve other masks in good condition
ASTM Face Mask Performance Level
Selecting the appropriate mask for a particular procedure is a critical component of your Personal Protective Equipment (PPE>99) protocol. Although may look similar, each mask has notable differences affecting the performance and level of fluid resistance and particle filtration. Understanding the ASTM performance level of each face mask can help make the selection process easier and ensure your mask will provide appropriate protection to minimize the spread of potentially infectious diseases.
ASTM F2100-11 Standards: ASTM Level 3 Mask
Specification
| | |
| --- | --- |
| Brand | Rhysley |
| Number of Layers | 4 |
| Certification | FDA, SITRA |
| Disposability | Disposable |
| Color | Nlue |
| Material | non-woven, melt-blown fabric |
| Country of Origin | Made in India |